The Hawaii Jewelers Association (HJA) holds a Design Contest annually which showcases the incredible designs of Hawaii's jewelry professionals. Held concurrently with the Annual Fundraiser Banquet, this nationally and internationally recognized design contest is open to HJA members.
Submitted pieces are graded by three independent judges the week prior to the Annual Banquet (usually held in May) and the winners are announced during the banquet. In addition to the 1st, 2nd and 3rd place winners from the formal judging, banquet attendees vote for their favorite entries as "People's Choice" award winners in each category.
The 2020 design contest was held in early October. The deadline to submit entries was Wednesday, September 30th and the winners were:

Under $3500 Category: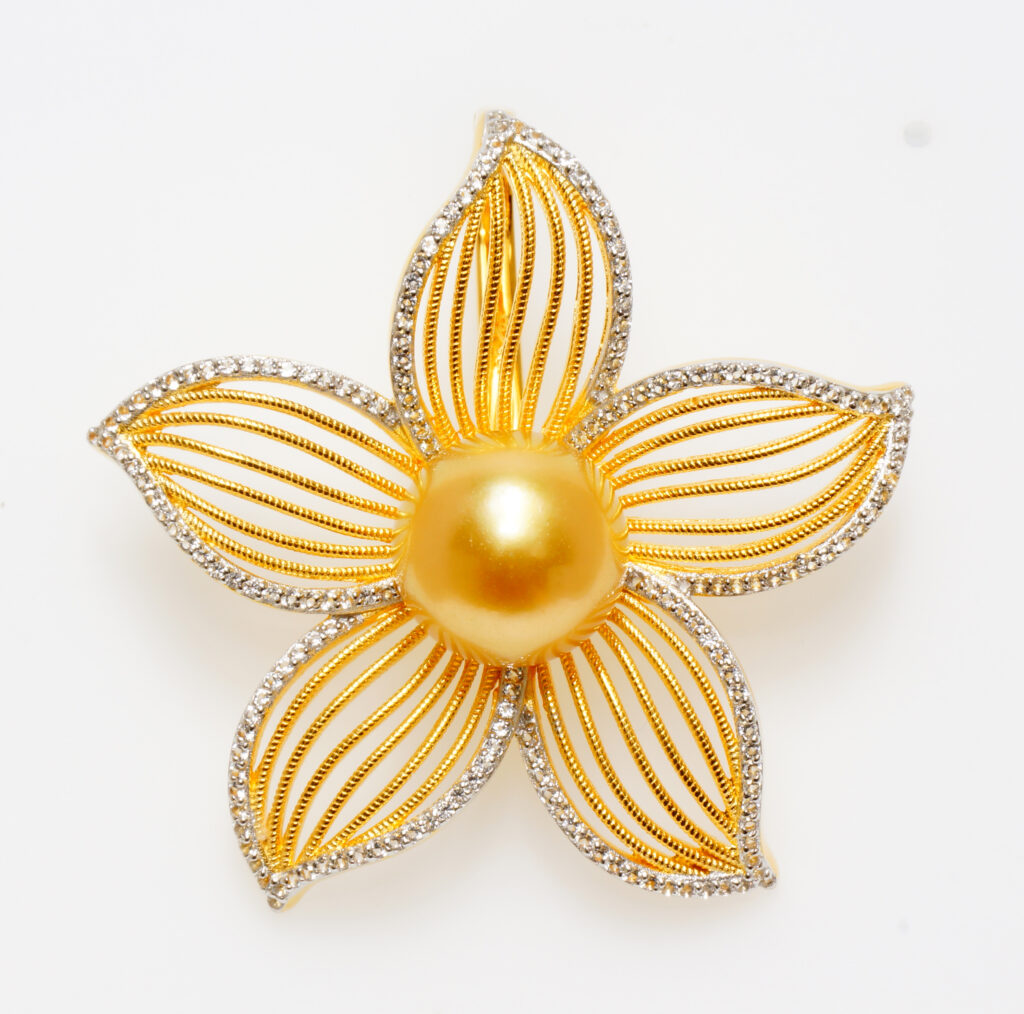 1st Place: Pua Melia by Chira Duval-Arnould, Aquagems
2nd Place: Lunar Love Ring by Carrie Nottage-Smith, Na Hoku
3rd Place: Dawn Eclipse by Mark Carson, Mark Carson/Individual Design
People's Choice: Rippin It by Tom Wheeler, Opal Fields

$3500 and Over Category: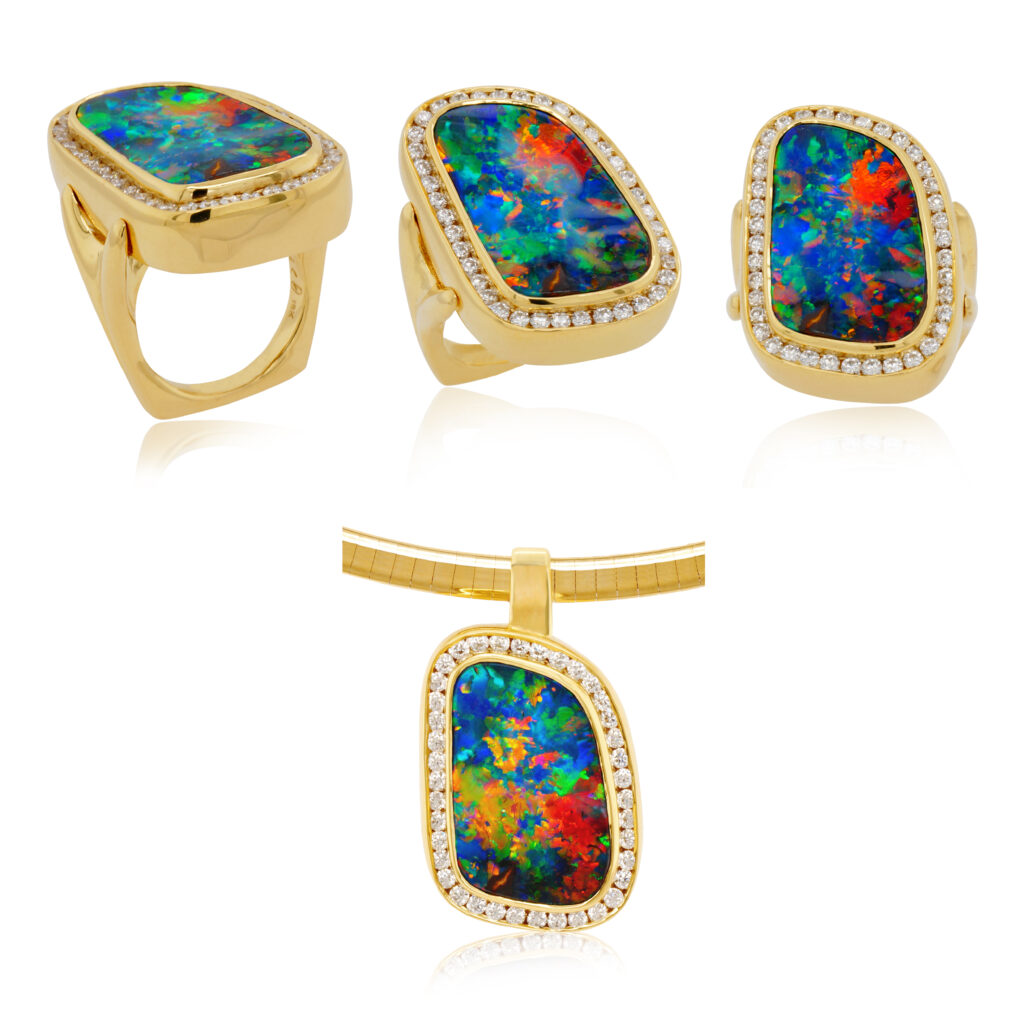 1st Place: Magnificent by Tom Wheeler, Opal Fields
2nd Place: Secret Garden by Donna Wong, Keoni Collection
3rd Place: Dancing Mr. Blue by Wailua Brandman, Opal Fields
People's Choice: Magnificent by Tom Wheeler, Opal Fields

Hawaiian Themed Category: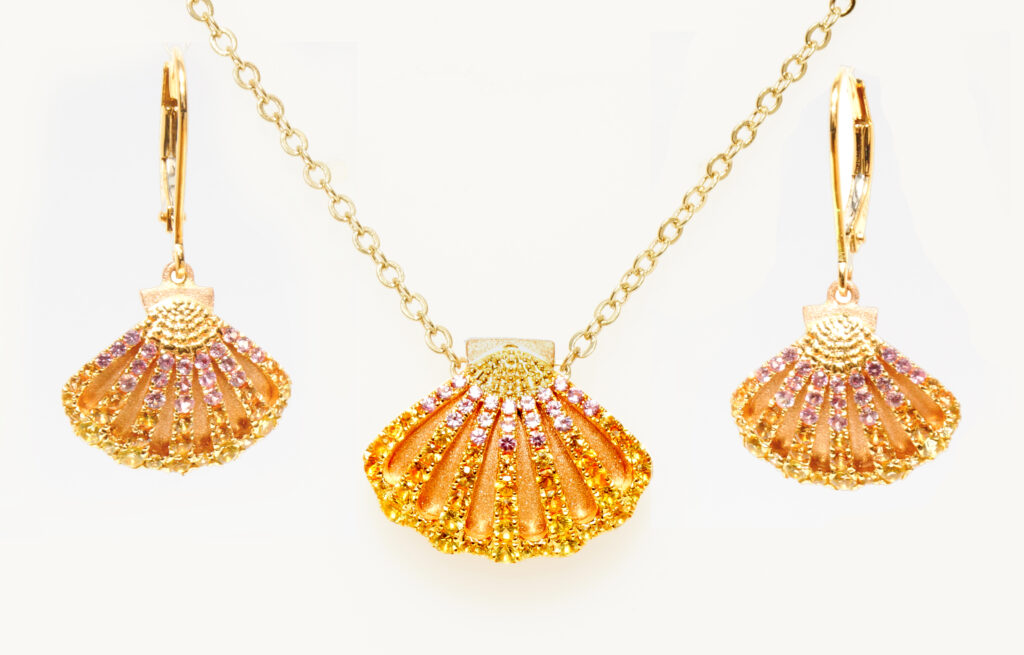 1st Place: Hawaiian Sunrise by Denny Wong, Denny Wong Designs
2nd Place: Moana Reef-Life by Carrie Nottage-Smith, Na Hoku
3rd Place: Lehua Alohilani by Sharon Gilbert, Lehua Jewelers
People's Choice: Ohana by Luana Zablan, Lehua Jewelers

Designer of the Year 2020: Chira Duval-Arnould, Aquagems for Pua Melia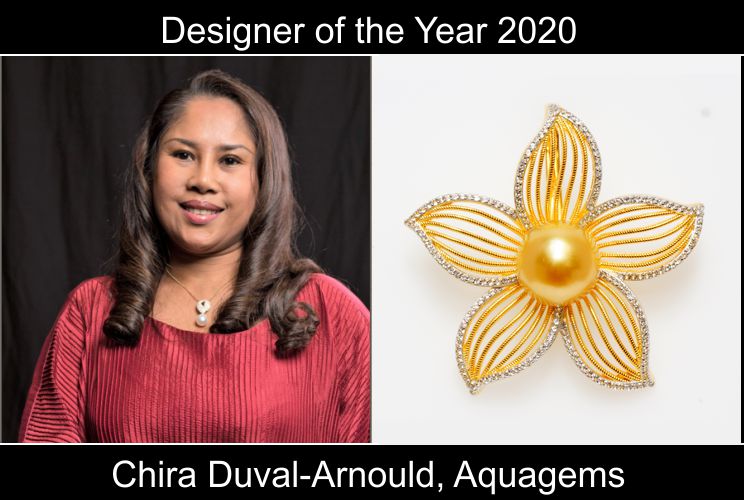 Voting for the 2020 People Choice Awards was done via a Poll linked to the HJA Facebook Page. Voting ended on Saturday, October 10th.
---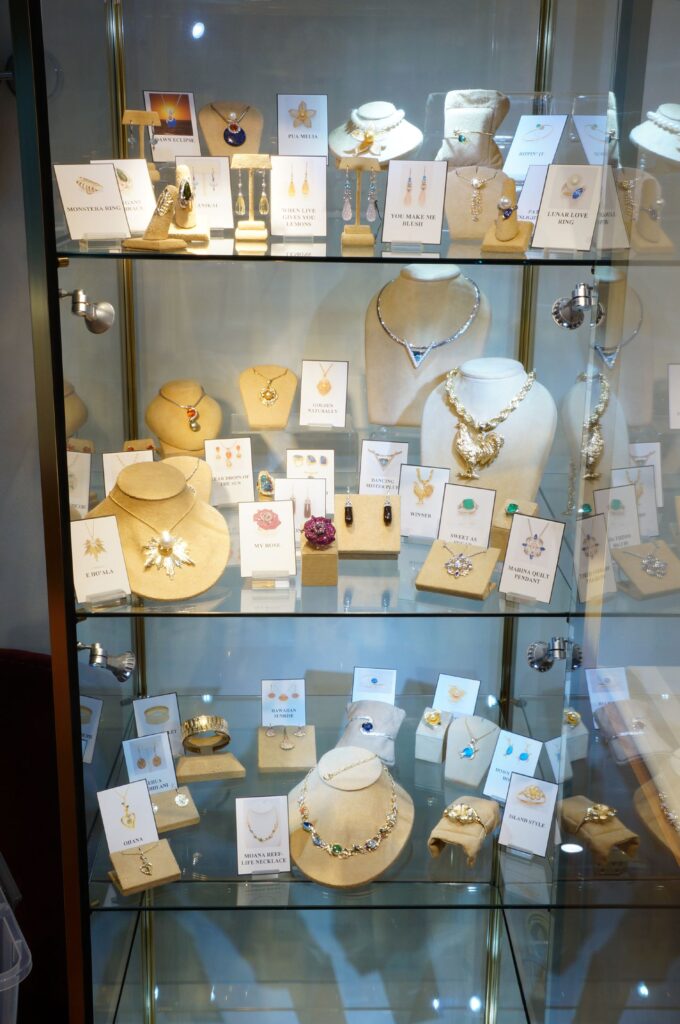 Click here to view each of the 2020 Design Contest Entries
---
Click here to download the official rules
The winners will receive a koa framed certificate. The winners are promoted by HJA in social media, trade magazines and industry publications, and other forms of communication both locally and nationally.
Design Contest Categories:
Jewelry under $3500
Jewelry $3500 and Over
Hawaiian Themed Jewelry
Estate/Vintage Jewelry (People's Choice Award only) - NOTE: there is no Estate/Vintage category in the 2020 Design Contest.
Entries are judged on a point system (does not apply to Estate/Vintage):
Judging Criteria

| | |
| --- | --- |
| A) Overall Design | 40 points maximum |
| B) Marketability | 20 points maximum |
| C) Practicality/Wearability | 20 points maximum |
| D) Craftsmanship | 20 points maximum |
| Total | 100 points maximum |
Guide
A) Is it compelling?
B) Does the price match the piece?
C) Is it comfortable to wear?
D) Is it well made?
The designer of the highest scoring entry across all categories is designated the Hawaii Jewelers Association "Designer of the Year". So the Designer of the Year could come from the Under $3500, $3500 and Over, or Hawaiian Themed category.
Estate/Vintage pieces are not eligible for Designer of the Year. Estate/Vintage pieces do not have to have been designed by an HJA member. NOTE - the 2020 Design Contest does not have a Vintage Category.
Entries in the Under $3500, $3500 and Over, and Hawaiian Themed categories must be designed by an HJA member and produced within 18 months prior to the Design Contest.
A designer must be from an HJA member company and can only submit one entry per judged category. More than one designer from a company may submit entries. Estate/Vintage entries are not associated with a designer and an HJA member company may submit as many Estate/Vintage pieces as they wish.

Featured at the Hong Kong Jewellery Show
Biennially, the HJA Designer of the Year is awarded a qualifying entry at the prestigious Hong Kong Jewellery Show.
2020 Design Contest Fee Schedule (per company):
$75 Single Entry
$70 Per Entry - 2 Entries ($140 total)
$60 Per Entry - 3 Entries ($180 total)
$55 Per Entry - 4 or more Entries ($220 for 4 Entries)
The winner of each category will receive a free entry in the following year's Design Contest.
Each new HJA member will receive one free entry Design Contest entry for the year that they joined (the free entry does not apply towards multiple entry pricing).

After the Design Contest, entrants who wish to know how they did relative to the scoring system may request an email with their score (per entry) along with a score break-down for each of the judging criteria. The total score of the winning entry for the same category will be listed for comparison. This feedback is intended to help designers see how they did and what areas they need to focus upon in the future.
List of previous Design Contest Winners