~ A message from our 2018-2019 President ~
Aloha!
Hawaii continues to be a premier destination for worldwide vacationers with forecasts of more record-breaking visitor arrivals. This, along with a strong economy, provides our retailers with many opportunities for success. But To fully realize our business potential, we must stay informed of the ever-increasing consumer options and where they spend their money. Family owned jewelry stores must work harder than ever to capture market share and secure a loyal audience to compete with millions of online sites. Membership in the Hawaii Jewelers Association is a powerful tool toward that goal. I am a small business owner that can share with you my benefits as a member.
Here in Hawaii, we have built a strong foundation throughout all the islands within the jewelry industry and will continue to work hard with all members to grow membership and member benefits. While the Board of Directors continues to work diligently toward our mission statement, I would like to hear from members with feedback and best practices that result in excellent customer experiences. We are open to suggestions and tips, so Hawaii Jewelers Association may serve our community and the retail jewelry industry better in our beloved state.
Research has shown that consumers are 40% more likely to purchase from – and 60% more likely to think favorably of – businesses that are members of their local association chapters (IE: Hawaii Jewelers Association, local Chambers of Commerce). Does every HJA member understand they may contact us for guidance, information, and resource referrals? Ironically, with the increased need for these local organizations to help solidify small business credibility and relevancy within their communities, we are seeing these retail associations struggling nationwide.
It has been an honor serving the Hawaii Jewelers Association's Board of Directors and as this year's President. I am confident that Hawaii Jewelers Association will continue to provide long-term strength for our members, communities and consumer confidence in our businesses.
Mahalo!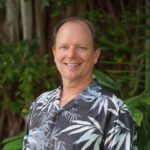 Doug Kreul
Owner, Windward Jewelers
2018-2019 HJA President