---
Hawaii Jewelers Association 2018 Design Competition & Banquet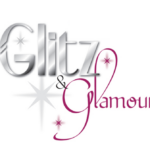 Our nationally recognized design competition was presented at the Oahu Country Club in the Nu'uanu valleys on Saturday, April 28, 2018. This years theme was Glitz & Glamour allowing attendees to dress in their glamorous best. The jovial atmosphere was infectious as everyone celebrated the artistry, craft skills, and innovative designs created by fellow jewelry industry colleagues.
Two photographers, Meri Hoffsten & Jeff Bryan were present to capture candid photos as well as head-shots that attendees could use for business purposes.
---
Our 2018 Hawaii Jewelers Association Designer of the Year winner is.....Carrie Nottage Smith, Na Hoku for her "Venus Fern Drop" design piece.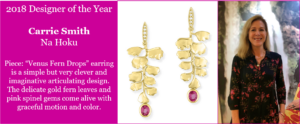 Candid photos
---
There were 34 pieces in this years competition in the following categories..
Estate Category entries
Under $3,500 Category entries
Over $3,500 Category entries
Hawaiian Theme Category entries
ANNUAL JEWELRY DESIGN COMPETITION
This annual event is locally & nationally recognized every year! We encourage you to share your original jewelry creations.
Download for Design Competition Rule and Entry
The top three are awarded for each category. Each winner will receive a Koa framed award certificate with your company's name and be featured on our website, social media, and other industry news.
The overall winning piece will determine this year's "Designer of the Year" and receive an entry into the 2019 Hong Kong International Jewellery Show's International Jewelry Design Excellence (IJDE) Award to compete for the highest honor and international recognition as one of the most prestigious designs in the world!
Please contact Sophia Makaimoku-Young & Bernard Nunies, Executive Directors for more information via email @
Admin@HawaiiJewelersAssociation.com
or by phone (808) 536-4255
---