Honolulu, Hawaii (April 30, 2016) - Hawaii Jewelers Association is proud to celebrate our 67th Annual Banquet and Design Competition!
Our 67th Annual Design Contest and Banquet was Saturday, April 30, 2016 at the Oahu Country Club. Glitz Glam & Games and featured table top displays from our Associate Members, Vegas-style Casino Games including Craps, Roulette, and Black Jack, and concluded with the awarding of our 2016 Design Contest Winners. All attendees at our annual banquet also vote for their favorite piece in The People's Choice Award.
The convivial evening allowed us to celebrate the artistry, craft skills, and innovative designs created by our local jewelry industry colleagues. To be considered by the judges, each entry must be an original piece and designed by an HJA member making use of only precious metals and genuine gem stones. All pieces were evaluated on the overall design, marketability, practicality/wear-ability, and craftsmanship.
There are 3 categories to compete in; Jewelry Under $3,500, Jewelry $3,500 and Over, and Hawaiian Theme Jewelry. The designer of the piece with the overall highest total points is also awarded Designer of The Year. This year, we had 33 entries from jewelers on Kauai and Oahu.
And the winners are . . .
DESIGNER OF THE YEAR, Dona Wong, Keoni Collection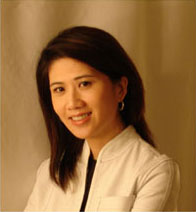 CATEGORY I: JEWELRY UNDER $3,500
First Place: "Iridescent Dream" pendant by Dona Wong, Keoni Collection. At the heart of this elegant brooch is a beautiful lustrous Australian crystal opal. This design features cascading ribbons of 14 karat white gold and brilliant diamonds capturing the opal's iridescent beauty.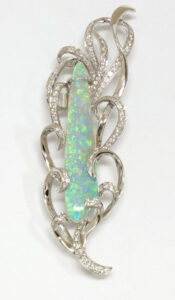 Second Place: "Body Architecture" earrings by Michael Ly, The Wedding Ring Shop. These striking and sensual dangle earrings feature bezel set diamonds in round and square bold geometric shapes.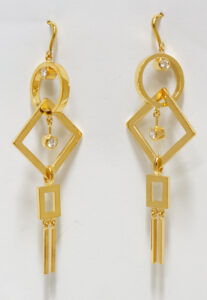 Third Place: "Na Pali" pendant, Tiffany Grande, Grande's Gems from Kapaa, Kauai. This slide pendant features ruggedly beautiful boulder black opal reminiscent of the colorful rugged beauty of Kauai's Na-Pali coast. It is hand made in a yellow gold bezel setting and is accented with a marquise diamond.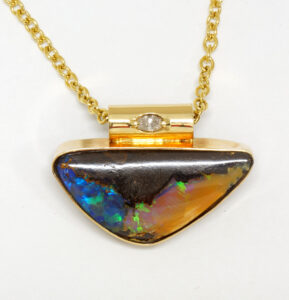 People's Choice: "Iridescent Dream" pendant by Dona Wong, Keoni Collection. In addition to First Place, this piece also won the People's Choice award.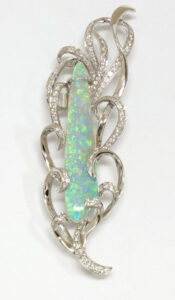 CATEGORY II: JEWELRY $3,500 and OVER
First Place: "Opal Tide Pool" pendant, by the Maui Divers design team. The deep blues and electric greens exhibited by this boulder opal reminisce the shimmering tide pools found around Hawaii. Sparkling diamonds silhouette this brilliant opal as salt crystals glaze the tide pool's edge. All expressed in masterfully crafted 18 karat gold.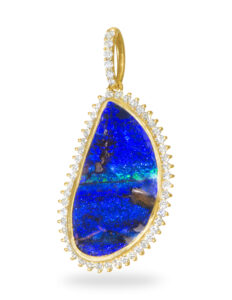 Second Place: "The Red Carpet" Ring, by Denny Wong, Denny Wong Designs. Unlike the red carpet's velvet rope, the red fire crystal opal in this ring is lined with draping ropes of diamonds suspended from stanchions of red spinel. Handmade in 18 karat white and yellow gold, this ring will make the wearer seem like they belong on the red carpet.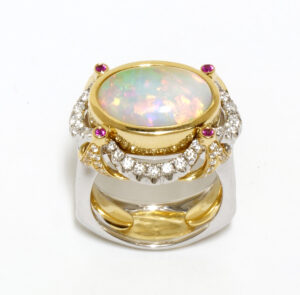 Third Place: "New Born" ring, Dale Cripps, Dale Cripps Jeweller. This delightful ring holds a beautiful and precious Australian crystal that is set off in a cluster of enhanced fancy colored and colorless diamonds. To earlier cultures opal, like this gem was the symbol of Hope and Purity bestowed on every new born.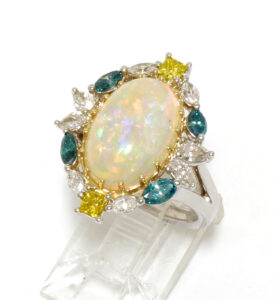 People's Choice: "Waterfall" bracelet, by Carrie Smith, Na Hoku. Inspired by the waterfalls and movement of water throughout the islands. This expertly crafted yellow gold bangle bracelet shows off fanciful swirls, curves and splashes of sparkling diamonds.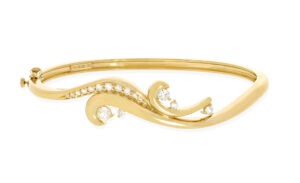 CATEGORY III: HAWAIIAN-THEMED JEWELRY
First Place: "Flowers of the Islands" bracelet, by Donna Shimazu, Na Hoku. This masterfully crafted hinged bangle bracelet is beautifully sculpted and carved depicting the flowers of our islands, accented with brilliant diamonds throughout.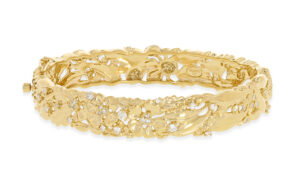 Second Place: "Sunset Flower" pendant by Chira Arnould-Duval, Aqua Gems. This 18 karat gold and golden South Sea pearl pendant is very precious with its sunset colored sapphire and delicate diamond plumeria flower accents.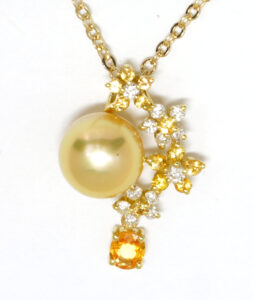 Third Place: "Living Heirloom" bracelet by The Design Team, Maui Divers. A flowing body hugging cuff bracelet in 14 karat yellow gold with accent diamonds. The Living Heirloom Collection brings this piece to life with uncurling hapu'u fern tips embraced by vines of royal maile.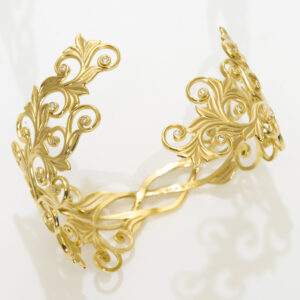 People's Choice: "Flowers of the Islands" bracelet, by Donna Shimazu, Na Hoku. In addition to First Place, this piece also won the People' Choice award.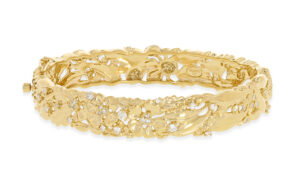 Congratulations to all the winners and a big Mahalo to all the designers who participated in this year's design contest.
Design Competition Category = Jewelry Under $3500 Entries
Design Competition Category = Jewelry Over $3500 Entries
Design Competition Category = Hawaiian Theme