Educational Seminar
Monday, June 24, 2019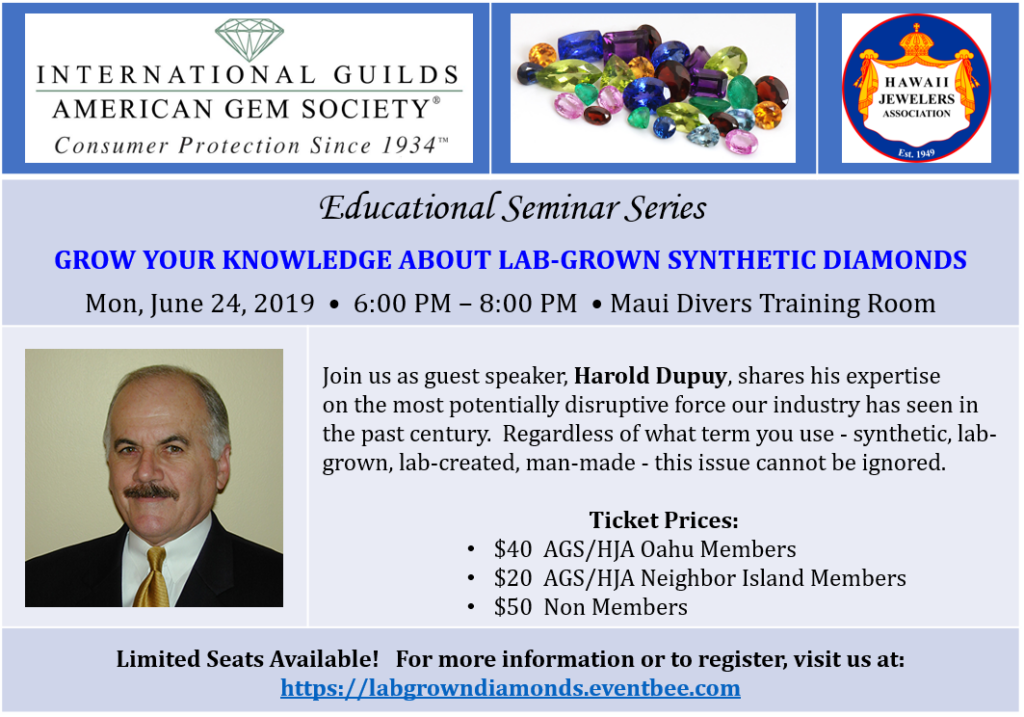 Mr. Harold Dupuy, FGA, Vice President, Strategic Analysis, Stuller Inc. will share the latest updates on this emotional, controversial, and rapidly evolving topic.  In his presentation you will learn about:
The history of synthetics
Production methods and producers
Market strategy and market share
Tips for screening and detection
---
Congratulations to our 2019 Hawaii Jewelers Association Designer of the Year winner,  Chira Duval-Arnould, Aqua Gems for her "Pearl Change" design piece.

---
~Upcoming Events Calendar~
June 24, 2019 - Educational Seminar - Lab-Grown Diamonds - Honolulu HI
July 9, 2019 - Board of Directors Meeting

August 13, 2019 - Board of Directors Meeting

September 10, 2019 - Board of Directors Meeting
November 12, 2019 - Board of Directors Meeting
October 23-25, 2019 - 7th International Jewellery Tokyo AUTUMN - Yokohama, Japan
January 20-23, 2020 - International Jewellery Tokyo - Tokyo, Japan
January 30-February 10, 2020 - Tuscon Gem Show - Tuscon Expo Center
March 4-8, 2020 - Hong Kong International Jewellery Show - Hong Kong
March 14-17, 2020 - China International Gold, Jewellery & Gem Fair Shenzhen - Shenzhen, China
March 15-17, 2020 - MJSA Expo - New York, USA
March 19-22, 2020 - Istanbul Jewelry Show - Bakirkoy, Turkey
April 10-13, 2020 - Jewellers Association Show - Jaipur, India
May 14-16, 2020  - International Jewellery Kobe - Kobe, Japan
June 1-5, 2020 - AGTA GemFair - Las Vegas, USA
June 2-5, 2020 - JCK Las Vegas - Sand Expo and The Venetian
Contact us for details
---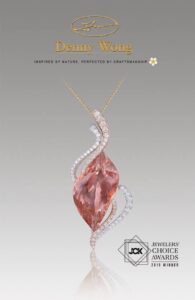 Congratulations Denny Wong Designs for winning 2019 Jewelers Choice Awards
---
If you or a jeweler you know is in the impact area of a natural disaster, our hearts go out to you!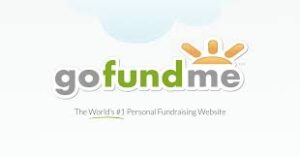 Most businesses on Kauai and the Big Island of Hawaii are still open for business despite the floods and the on-going eruptions. Many need our support so that they can continue to serve their customers on their islands and beyond. Besides the loss of sales profits, these jewelers now need to recover the loss of supplies and tools. Please help us in our efforts to assist our fellow jewelry industry members.
We kindly ask you to support by contributing to our GoFundMe campaign: Hawaii Jewelers Unite
---
Bona fide charities which are planning fund raising events, raffles, or auctions may contact the HJA Executive Directors (
Sophia
or
Bernard
) to see if they qualify for donations of $100 gift certificates (redeemable at participating HJA members).
Click here for details
.
---
We would like to introduce our
2018-2019 Officers!

President
Doug Kreul
Owner, Windward Jewelers.Member since 2015.

Also in charge of our Membership/Member Benefits.


Vice-President
Sharon Gilbert
Owner, Lehua Jewelers.Member since 2003.

Also in charge of our Educational Committee


Secretary
Moshe Hakemolo
Owner, Hawaii Estate & Jewelry Buyers.Member since 2015.

Also in charge of Charity and Community Outreach


Treasurer
Andrew Taylor
Manager, Elemetal Direct USA Member since 2009.

Also in charge of Media Release/Social Media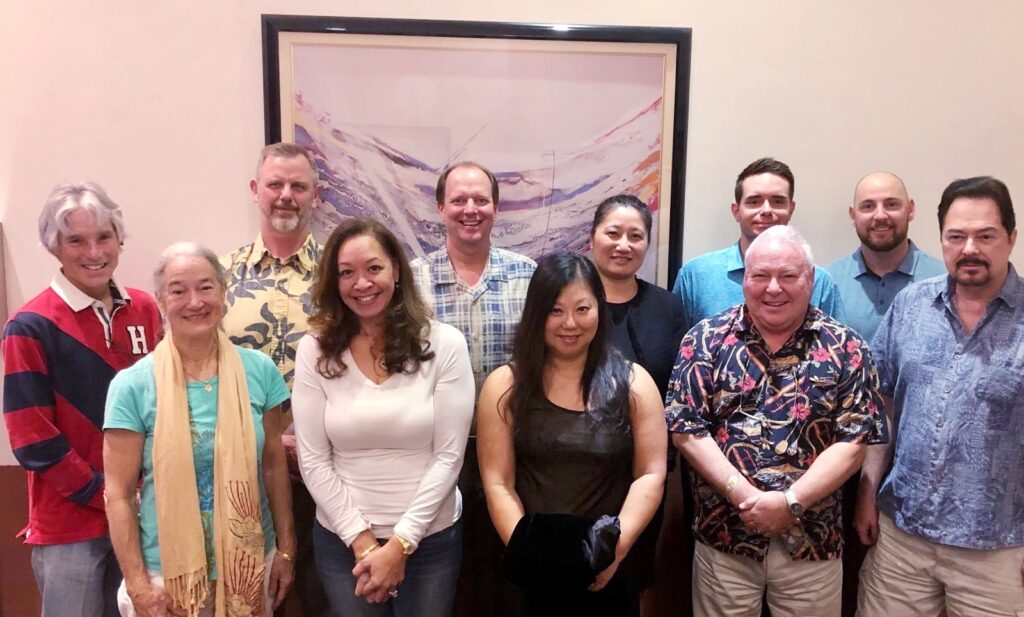 ---

Board Member Qualifications:
A director must be a member of the HJA in good standing that abide by associations Code of Ethics.
A director must be willing to serve all Associations members and not merely want to serve his/her own personal interests.
Board Member Duties:
Make sure the HJA operates legally and that policies are followed and modified as needed.
Attend monthly board meetings.
Actively participate in furthering the mission of HJA.
Perform tasks/duties associated with the committees in which he/she serves.
Contact our executive director @ admin@hawaiijewelersassociation.com
---
Discount just for referring a business associate!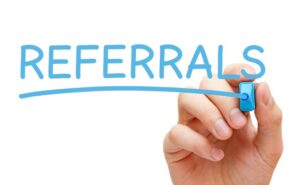 HJA introduces our 
Membership Referral Program.
For every new HJA member that you refer, HJA will credit $40 toward your next annual membership.  Simply have the new member mention your company name when they join HJA and receive your credit!  There is
no limit
to how much you can earn!
Example: If three (3) new members sign up that mentions your company, you will receive $120 off your HJA renewal cost. Its that easy!
---
NEW - Interactive map of HJA retailer jeweler locations. Click on the image below to view the map in a new tab.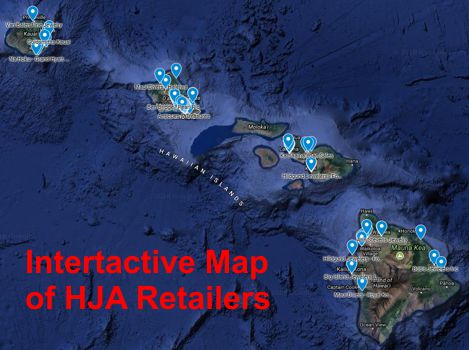 ---
HJA Member Plaques are  available for purchase
---
As a member of HJA, have you logged-in and explored the "Members Only" area? Access to this section is for the exclusive use of HJA members.  If you are a member and need your login credentials, please contact us.
Membership allows you access to:
Newsletters
Educational seminars
Minutes of Board Meetings
Discounts to HJA Members & their employees
Trade, Industry, and Education Information
---
We are proud to offer Hawaii Jewelers Association merchandise!
Order online or click here to download an order form. Or contact our Executive Directors via email admin@hawaiijewelersassociation.com or call 1-808-536-4255
Hawaii Jewelers Association has been a proud affiliate with Jewelers for Children and will donate $5.00 from every T-shirt sale! Jewelers for Children mission is to help children in need and have¬†donated more than $45 million to programs benefiting children whose lives have been affected by illness, abuse, or neglect through our charity partners St. Jude Children's Research Hospital¬ģ, the Make-A-Wish¬ģ America, the Elizabeth Glaser Pediatric AIDS Foundation, and the National CASA Association. JFC also provides support to the Make-A-Wish¬ģ International and the Santa-America Fund. This nationwide success is due to the continuing generosity of jewelry trade organizations, jewelry and watch manufacturing companies, jewelry retail stores, individual jewelry professionals, and jewelry consumers.
Contact us with suggestions of other items that you would be interested in purchasing from Hawaii Jewelers Association.
---
As a responsible trade organization, Hawaii Jewelers Association does its utmost to adhere to strict business policies that enables clients to feel safe that they are purchasing from an esteemed jewel merchant in the Aloha State.
If you have anything to clarify, crime alerts, or are in need of a business referral, there are several options to contact us.
You may reach us on Social Media via Facebook, LinkedIn, or Instagram.
Additionally, we have our official e-mail address for people who have longer inquiries that can't be properly addressed via the aforementioned resources. Rest assured, our support staff will try their best to provide the answer for your query.
---