HJA members, be on the look out for next 2 seminars for 2017!
---
Save the Date!
Our 2017 Annual Design Competition and Banquet will be held at Oahu Country Club on Saturday, May 6, 2017
---
Congratulations to our Holiday Giveaway Winner
HJA had our 2nd annual giveaway from November 1-December 10 2016. This years award was a 14kt white and yellow gold Opal and diamond ring valued at $2,450.  Our lovely winner of this ring is Opal Fields client, Lori Uyehara! We love the fact that Lori birthstone is Opal so she was so happy to add this to her collection of fine jewelry.


Thank you participating HJA members! You made another giveaway such a a success!
---
We would like to introduce our
2016-2017 Officers!

President
Tom Wheeler
Owner, Opal FieldsMember since 1991, board member since 1994. Currently serving  his 3rd term as president. In charge of HJA Complaints and Consumer Affairs

Vice-President
Doug Kreul
Owner, Windward JewelersMember since 2015.Also in charge of our Promotional Seminars and Events as well as our newsletters.

Secretary
Sharon Gilbert
Owner, Lehua JewelersMember since 2003.  Also in charge of our Educational Committee

Treasurer
Andrew Taylor
Manager, Elemetals Inc.Member since 2009 who is also in charge of Member Benefits and Membership.
---
~Upcoming Events Calendar~
January 24, 2017 - Board of Directors Meeting
January 25, 2017 - 10 Top Selling Tips w/ Guest AGS Speaker Debbi Hiss
February 21, 2017 -  Board of Directors Meeting
March 21, 2017 -  Board of Directors Meeting
April 18, 2017 -  Board of Directors Meeting
May 6, 2017 - Annual Banquet & Design Competition
June 20, 2017 - Board of Directors Meeting
July 18, 2017 - Board of Directors Meeting
August 15, 2017 - Board of Directors Meeting
September 19, 2017 - Board of Directors Meeting
October 17, 2017 - Board of Directors Meeting
November 21, 2017 - Board of Directors Meeting
Contact us for more information.
---
HJA Member Plaques are  available for purchase
---
As a member of HJA, have you logged-in and explored the "Members Only" area? Access to this section is for the exclusive use of HJA members.  If you are a member and need your login credentials, please contact us.
This section allows you access to:
Security Alerts
Newsletters
Minutes of Board Meetings
Discounts to HJA Members & their employees
Trade, Industry, and Education Information
---
We are proud to offer Hawaii Jewelers Association t-shirts for sale!
Choose a Black or White color t-shirt in a V-Neck or Crew-neck style for $25.00 each. Availability in certain sizes are limited so act soon!
Click here to download an order form. or contact our Executive Directors via email admin@hawaiijewelersassociation.com or call #808-536-4255
Hawaii Jewelers Association has been a proud affiliate with Jewelers for Children and will donate $5.00 from every T-shirt sale! Jewelers for Children mission is to help children in need and have¬†donated more than $45 million to programs benefiting children whose lives have been affected by illness, abuse, or neglect through our charity partners St. Jude Children's Research Hospital¬ģ, the Make-A-Wish¬ģ America, the Elizabeth Glaser Pediatric AIDS Foundation, and the National CASA Association. JFC also provides support to the Make-A-Wish¬ģ International and the Santa-America Fund. This nationwide success is due to the continuing generosity of jewelry trade organizations, jewelry and watch manufacturing companies, jewelry retail stores, individual jewelry professionals, and jewelry consumers.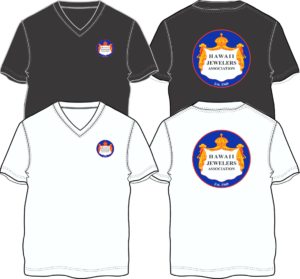 Contact us with suggestions of other items that you would be interested in purchasing from Hawaii Jewelers Association.
---
As a responsible trade organization, Hawaii Jewelers Association does its utmost to adhere to strict business policies that enables clients to feel safe that they are purchasing from an esteemed jewel merchant in the Aloha State.
If you have anything to clarify, crime alerts, or are in need of a business referral, there are several options to contact us.
You may reach us on Social Media via Facebook, LinkedIn, or Instagram.
Additionally, we have our official e-mail address for people who have longer inquiries that can't be properly addressed via the aforementioned resources. Rest assured, our support staff will try their best to provide the answer for your query.
---